Professor Jens Peter Christensen: Inauguration lecture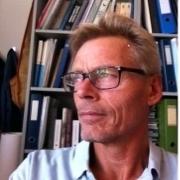 Jens Peter Christensen, DVM, Ph.D, Dipl ECPVS, has been appointed Professor with Special Duties in Poultry Diseases by 1st May 2017 at Section for Veterinary Clinical Microbiology, Department of Veterinary and Animal Sciences, University of Copenhagen.
His appointment will be celebrated with a lecture entitled:
"Poultry diseases – a bigger perspective"
The lecture will be followed by a reception at 15:30 in the "Swan library", Grønnegårdsvej 7, 1st floor, Frederiksberg Campus.
All are welcome!
John Elmerdahl Olsen
Head of Section for Veterinary Clinical Microbiology