25 April 2017
Professor With Special Duties in Poultry Diseases
New Professor With Special Duties
On 1 May Jens Peter Christensen assumes his position as Professor with Special Duties in Poultry Diseases.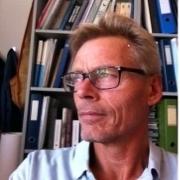 Jens Peter Christensen takes up his position as Professor with Vetschool, Section for Veterinary Clinical Microbiology, where he has been an associate Professor since 1997.
His main area of research is infectious poultry diseases including epidemiology, pathogenesis and pathology. In addition, he has worked with poultry disease projects in Bangladesh, Vietnam and a number of African countries.
Jens Peter Christensen teaches several post graduate courses and is head of the graduate programme Molecular Bacteriology & Infection. Learn MORE about Jens Peter Christensen's work