Parasites and the environment
Our research mainly deals with helminth infections (e.g. schistosomiasis, filariasis and soil-transmitted helminthiasis) and malaria  with primary focus on the impact of drug based treatment and control on disease, infection and transmission as well as host immune responses.
We  study the influence of environmental factors on parasite transmission as a background for developing tools and strategies for control of parasitic infections. A considerable part of our research is directed towards developing countries. 
Drug based treatment and control
The projects investigates and evaluates intervention strategies for  three major parasitic infections: Schistosomiasis, lymphatic filariasis and malaria.
Morbidity studies
In collaboration with international partners, e.g. the SCORE, CHILDMED and VIBE projects and the MIP consortium we conduct morbidity studies in  Africa, Asia and Latin America .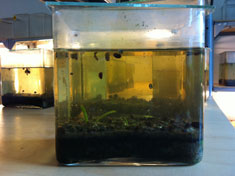 Influence of environmental factors on parasite transmissions
This research investigates the disease ecology of vector-borne parasitic infections, the effect of climate change on the disease biology of vector borne helminth diseases and influence of the environmental factors of parasite transmission.
Impact of gut microbial composition and S. mansoni infection on host immune response
This project aims at investigating the impact of S. mansoni infection and commensal gut bacterial composition on host immune responses in mouse models. Furthermore, it will address whether gut microbial composition affects the inhibitory effect of S. mansoni infection on type-1 diabetes (T1D) development in non-obese diabetic (NOD) mice (PhD project, A. Kildemoes).
 
A BIBLIOGRAPHY
Lymphatic Filariasis Research and Control in Eastern and Southern Africa by af Paul E. Simonsen, Mwele N. Malecela, Edwin Michael & Charles D. Mackenzie (editors).
Lymphatic filariasis is a disabling and disfiguring disease which results from a mosquito transmitted parasitic infection. Read more in this comprehensive bibliography.