Bacterial pathogenesis and treatment strategies - Mol-VET-Micro group
Research carried out in the Molecular Veterinary Microbiology (Mol-Micro-VET) group aims to find new ways to prevent and cure bacterial diseases in animals and humans, and thus to contribute to reduction in use of antimicrobials in livestock and companion animals.
Research focus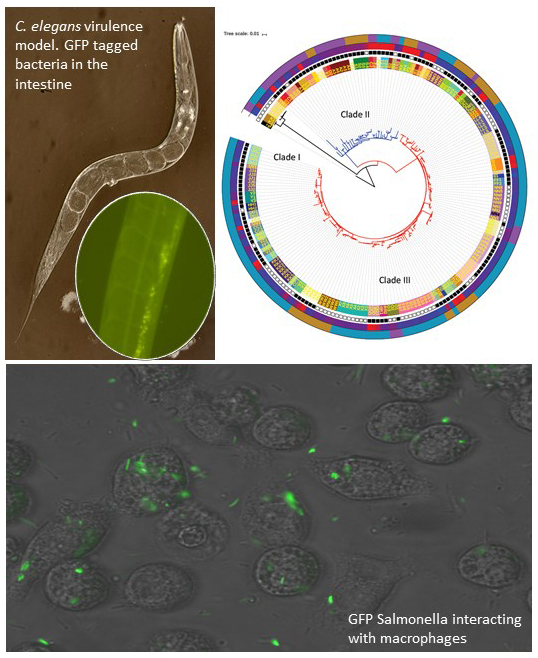 In our research, we investigate mechanisms of bacterial diseases in production and companion animals and where relevant also in humans, and we aim to understand the role of the microbiota in disease. We develop diagnostic methods, preferably those that can be used directly in veterinary practice, we explore alternatives to antibiotics (vaccines, bacteriophages, antibacterial peptides), and we study the spread of clinically relevant bacteria and antimicrobial resistance in society. Additionally, we are at the forefront of molecular bacterial taxonomy, in particular within Pasteurellaceae. 
Our tool-box is state of the art. We have a modern DNA-sequencing facility, we use sophisticated animal, microscopy and cell culture models, and we have expertise to genetically modify disease causing bacteria. We mainly work with veterinary relevant bacteria e.g. Salmonella, E. coli, staphylococci, streptococci and Pasteurella.  
Moreover, we have long collaborated (on research projects, joint PhD students) with a number of universities and veterinary institutes in developing countries and contribute to capacity building within infectious diseases in livestock production, with a strong focus on antimicrobial resistance.
"We focus on bacterial pathogenesis, because if you know your enemy, then you know how to defeat it.  And we also focus on antimicrobial resistance because it is a major global health threat to humans and animals. Denmark has been a pioneer in reducing antimicrobial use in animals, but we can still improve and be an example for other countries" says research group leader John Elmerdahl Olsen.
Herrero-Fresno A, Olsen JE. Salmonella Typhimurium metabolism affects virulence in the host - A mini-review. Food Microbiol. 2018; 71:98-110. doi: 10.1016/j.fm.2017.04.016.
In this paper, we provide a comprehensive overview on the state of the art of Salmonella metabolism when growing in a host. 


Møller TSB, Liu G, Boysen A, Thomsen LE, Lüthje FL, Mortensen S, Møller-Jensen J, Olsen JE. Treatment with Cefotaxime Affects Expression of Conjugation Associated Proteins and Conjugation Transfer Frequency of an IncI1 Plasmid in Escherichia coli. Front Microbiol. 2017;8:2365. doi:10.3389/fmicb.2017.02365. In this paper, we highlight the role of antibiotics in horizontal spread of resistance genes.


Christensen H, Kuhnert P,  Nørskov-Lauritsen N,  Planet PJ, Bisgaard M. The Family Pasteurellaceae. Book chapter in The Prokaryotes - Gammaproteobacteria. DOI: 10.1007/978-3-642-38922-1_224
In this book chapter, we give a comprehensive overview of Pasteurellaceae including current taxonomy, ecology and clinical relevance.
 
Anjum M, Madsen JS, Nesme J, Jana B, Wiese M, Jasinskytė D, Nielsen DS, Sørensen SJ, Dalsgaard A, Moodley A, Bortolaia V, Guardabassi L. Fate of CMY-2-Encoding Plasmids Introduced into the Human Fecal Microbiota by Exogenous Escherichia coli. Antimicrob Agents Chemother. 2019;63(5). pii: e02528-18. doi: 10.1128/AAC.02528-18.
In this study, we investigated the fate of antibiotic resistance plasmids in human fecal microbiota.


Katakweba AAS, Muhairwa AP, Lupindu AM, Damborg P, Rosenkrantz JT, Minga UM, Mtambo MMA, Olsen JE. First Report on a Randomized Investigation of Antimicrobial Resistance in Fecal Indicator Bacteria from Livestock, Poultry, and Humans in Tanzania. Microb Drug Resist. 2018; 24(3):260-268. doi: 10.1089/mdr.2016.0297.
Together with scientists from Sokoine University in Tanzania, we assessed the antimicrobial resistance in fecal indicator bacteria from humans and food animals in Tanzania to provide baseline data that can be used in an antimicrobial resistance surveillance programme.
Combining non-essential targets into suitable targets for novel antimicrobial against uropathogenic E. coli. Funded by Danish Research Council for Technology and Production, (DF-2 project), 2016-2019.


Improved diagnostic methods for use in veterinary practice. Funded by Grønt Udviklings- og Demonstrationsprogram (GUDP), 2016-2019.


Improved vaccines for prevention of post weaning diarrhoea in pigs. Funded by Innovation Fund Denmark, 2018-2022.


Antibiophage A bacteriophage-based approach to reducing infections caused by antibiotic resistant E.coli funded by EU Animal Health and Welfare ERA-NET, 2015-2020.


Biocontrol of Streptococcus uberis in dairy farms,  Funded by Mælkeafgiftfonden (Milk Levy Fund): 2019.
Previous Funding sources:
Danida
EU Commission FP7
Lundbeck Foundations