19. oktober 2017
World Small Animal Veterinary Association Congress 2017
WSAVA Congress 2017
The 42nd World Small Animal Veterinary Association Congress took place in the Bella Center for almost 3,000 participants. A mix of small-animal practitioners, researchers and suppliers from all over the world, including several vets and researchers from Vetschool.
The world's largest veterinary congress took place in the Bella Center from 25 – 28 September 2017.
Being invited to speak and exhibit takes time and effort. All speakers are busy in their clinics and in their research. So is it worth the trouble? We have asked a few of the young participants after the congress.
Focus on the direct needs of the veterinarian
Associate Professor Peter Damborg spoke in two sessions. The One-Health session, where he talked about zoonotic transmission of antimicrobial resistant bacteria in family households. The focus is on MRSA, MRSP, and ESBL-producing bacteria, exemplifying the occupational risk veterinarians are facing. And in the Urology session with "Diagnosis of resistant uropathogens; the practitioners guide to  the antibiogram".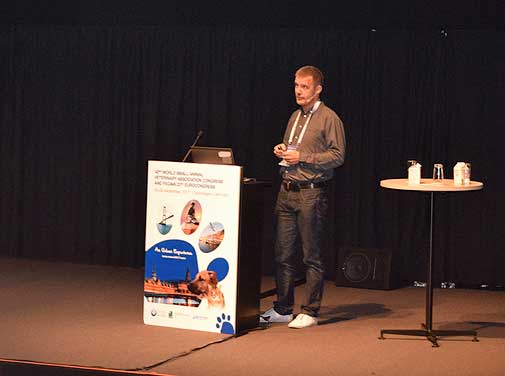 "This conference was very different from the conferences I usually attend. Everything from lectures to the exhibition is very "applied" with focus on the direct needs of practitioners rather than basic science. In a way this feels like lecturing for veterinary students, and I enjoyed the interaction with veterinarians, both during and between my lectures," says Peter Damborg.
A first time for everything - the successful international debut
Maria Thøfner gave a 45 minutes lecture on syringomelia (SM) in Cavalier King Charles Spaniels. SM is a defect in the spinal cord.
"I am a PhD student and work with pain researchers to see if these dogs could represent a spontaneous model for central neuropathic pain in humans. The focus of my presentation was how our colleagues could handle these dogs. With regard to assessment as well as treatment. I had never done an academic presentation in English before, so this was my international debut. It was a good experience with familiar faces around and good response from the audience".
Fantastic to share our knowledge at this scale

Tina Møller Sørensen and Lisbeth Jessen did a joint lecture on diagnosis and treatment of urinary tract infections in dogs. They also sat on a panel discussion during the week. "It really was a privilege to give a lecture in such a large congress to an audience this enthusiastic. Being given the opportunity to share our results with a wider group of practicing veterinary surgeons from all over the world was a fantastic experience", says Tina, adding: "We heard several interesting lectures, and had some really nice discussions – altogether a very positive experience".
Barbara Blicher Thomsen and Trine Schütt (Vet. PhD.) gave a lecture on dementia in dogs during the neurology session. Barbara: "We were some of the last on the programme, but despite this we were met with enthusiasm and relevant questions from a very alert audience. This was something we had seen throughout the whole congress at all the sessions we had been attending". She continues: "It was a very positive experience to speak at this huge international congress. We have learnt a lot just by attending".
Networking – definitely worthwhile
Besides the scientific programme the huge exhibition hall offered stalls representing every aspect of the veterinarian "trade". From surgical instruments to a pet funeral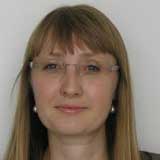 service offering ceramic urns. Discussions were lively as colleagues met and exchanged views and experiences. Associate Professor in Parasitology, Helena Mejer had spent the afternoon after her lecture in the exhibition hall. The purpose was to promote the "European Scientific Counsel Companion Animal Parasites (ESCCAP). They provide independent guidelines on parasite prevention and control. "This kind of networking can be time consuming. However, it is nice to meet and discuss in a less formal setting. I found it absolutely worthwhile – and fun".
The congress saw about 25 of Vetschool's researchers and veterinarians from IVH and IKV.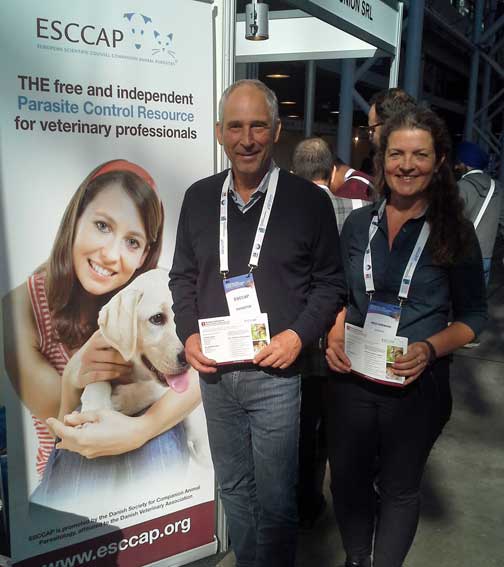 Stig Thamsborg and Heidi Enemark, both senior VIPs at the congress: " We did not realize how large this congress was - amazing!".