21 February 2019
New cat project generates a lot of collaboration across the veterinary departments
In the coming years Ida Sophie Thuesen, DVM and newly employed ph.d.-student, will together with her supervisors, Søren Saxmose Nielsen, Thomas Bøker Lund, and Peter Sandøe, study unowned cats in Denmark. How many are there? Where and under which conditions do they live? Which welfare problems do they encounter? These are central questions for Project "Wildcat" which is funded by CATO Fonden and a number of animal welfare NGOs. See more about the project (in Danish) here:  https://dyreetik.ku.dk/forskningsprojekter/projekt-vildkat/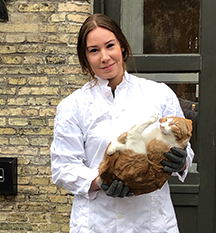 Besides Ida 4-6 teams of master students will work on the project over the next three years. 
To gain knowledge about the welfare of non-socialized cats Ida is right now collecting cats that have been euthanized by animal welfare NGOs. The plan is to collect about 1000 cats where post mortems and various tests will elucidate body condition, wounds and diseases affecting cat welfare. 
Among colleagues from the veterinary departments there is a great interest in making use of the collected cats. So far collaboration has been agreed upon with four different groups: One is studying the dissemination of toxoplasmosis, another Q-fever, a third the prevalence of certain parasites, and a fourth FIV/FeLV status. Based on these collaborations valuable knowledge will be gained about whether and to which degree unowned cats pose risks to the health of humans, companion cats and farm animals.