Disease Stem Cells Models and Embryology
Research focus
Our research activities are focused on disease modeling using induced pluripotent stem cells (iPSC) from patients and their CRISPR-Cas9 gene edited controls. We have a specific disease-oriented focus on Alzheimer's disease (AD) Frontotemporal dementia (FTD), Glaucoma, Epilepsy and Schizophrenia.

Within these diseases we are investigating cell type specific pathologies in neurons, astrocytes and microglia. We are conducting those studies in 2D and in 3D organoid structure. We are especially keen on understanding overlapping dysfunctions amongst different types of dementia and identification of key players in disease pathways. We believe that comprehensive understanding of such molecular commonalities may provide opportunities for novel interventions that are beneficial for an array of related diseases facilitating cost effective drug development. Furthermore, our lab is working in early embryology and epigenetic alterations leading to developmental abnormalities and infertility.
Current projects
Our main research focus is on Frontotemporal dementia (FTD) and Alzheimer's disease (AD). Here we differentiate our cellular models into neurons, astrocytes and microglia and assess cellular phenotypes compared to their isogenic controls. BrainStem and NeuroStem (Innovation Foundation Denmark) support the disease in the dish modelling of both FTD and AD.We are particularly interested in the inflammatory component of neurodegeneration and investigate the role of specific single nucleotide polymorphisms (SNPs) related to the innate immune system in sporadic AD funded by Novo Nordisk Foundation(GliAD).
Additionally, we are investigating the consequences and treatment options in rare childhood epilepsies in collaboration with Rikke Møller at the Danish epilepsy center. This project implements CRISPR/Cas9 editing of healthy iPSC to generate loss and gain of function mutations in CACNA1A Novo Nordisk Foundation(PREMED).
Recently a Lundbeck collaborative project was awarded to Martin Røssel Larsen   https://lundbeckfonden.com/en/researchstories/mini-brains-to-shed-light-on-nervous-disorders in which I am co-applicant and partner together with Madelaine Lancester. Within this grant we will make several iPSC lines of schizophrenia patients and analyse their cerebral organoids.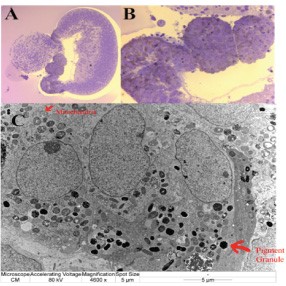 Our glaucoma research is currently focusing on generation of RGCs in 3D optic cups and this work is supported by the Danish Ophthalmology Society via Miriam Kolko. 
Furthermore, we are collaborating with Poul Hyttel on a project to evaluate the dog as a model for AD research and compare iPSC derived neurons from dogs with canine cognitive deficits (CCD) to the human AD iPSC derived neurons (funded by the Dansk Forskningsråd, PI Poul Hyttel). Last but not least, we are collaborating with Hans Wandall and Jakob Barslev Sørensen on glycolysation changes in AD and Epilepsy, respectively. Both are funded via Lundbeck Foundation.
Dog induced pluripotent stem cell (iPSC) models for Alzheimer's disease 
Commonly known as the DOG project, is a FP2 project funded by the Danish Council for Independent Research/Production and Technological Sciences. Our overall hypothesis is that that domestic (pet) dogs with naturally occurring dementia offer significant advantages to existing experimental animal models for investigating Alzheimer's disease (AD). We develop the dog model at the cellular and molecular level by finding commonalities between disease phenotype in iPSC-derived neurons from CCD dogs and human AD patients.
EggSphere
The EggSphere project is a FP1 project funded by the Danish Council for Independent Research/Natural Sciences, and it investigates the function of the oocyte's nucleolus in embryonic development. The pig, in which the egg's morphology and biology resembles its human counterpart, will be used to study the content of the nucleolus as well as the developmental competence conveyed by this structure.
EliteOva
The EliteOva project funded by Grand Solutions, Innovation Fund Denmark develops and implements technologies for in vitro production (IVP) and genomic selection of elite embryos in Danish Holstein cattle. IVP embryos are produced from top quality eggs (oocytes) and biopsies from the embryos will be genotyped for estimation of breeding values including disease resistance and resilience as well as novel traits as feed-efficiency and methane emission.
SukkerSo
"SukkerSo - Sukker til søer for mere ensartede kuld" is funded by the Danish Svineafgiftsfond and run by Assistant Professor Merle Fenner
Research Funding
Selected Publications
 

Chandrasekaran A.; Dittlau K.; Corsi G., Haukedal H.; Doncheva N.; Ramakrishna S.; Ambardar S.; Salcedo C.; Schmidt S.; Zhang Y; Cirera S.; Pihl M.; Schmid B.; Nielsen T; Nielsen J.; Kolko M.; Kobolak J.; Dinnyes A.; Hyttel P.; Palakodeti D.; Gorodkin J.; Muddashetty R.; Meyer M.; Aldana B.; Freude K., 2021. Astrocytic reactivity triggered by defective autophagy and metabolic failure activates NF-kB signaling and causes neurotoxicity in frontotemporal dementia type 3. Stem Cell Reports October 21, 2021; DOI:https://doi.org/10.1016/j.stemcr.2021.09.013 – IF: 7.765
Andersen, JV, Skotte, NH, Christensen, SK, Polli, FS, Shabani, M, Markussen, KH, Haukedal, H, Westi, EW, Diaz-delCastillo, M, Sun, RC, Kohlmeier, KA, Schousboe, A, Gentry, MS, Tanila, H, Freude, KK

, Aldana, BI, Mann, M & Waagepetersen, HS 2021, 'Hippocampal disruptions of synaptic and astrocyte metabolism are primary events of early amyloid pathology in the 5xFAD mouse model of Alzheimer's disease', Cell Death & Disease, bind 12, nr. 11, s. 954. –

IF: 8.469
Ramakrishna S., Jhaveri V., Konings S., Chakraborty S., Holst B., Schmid B., Freude K

, Gouras G., Muddashetty R., 2021.

APOE4 affects basal and NMDAR mediated protein synthesis in neurons by perturbing calcium homeostasis

.  2021.

Journal of Neuroscience 

 JN-RM-0435-21.

IF: 6.167
Chandrasekaran A., Jensen P., Mohamed F., Lancaster

M., Benros

M., Larsen

M.,

Freude K.

, 2021

A protein-centric view of in vitro biological model systems for Schizophrenia.

Stem Cells

Aug 25. doi: 10.1002/stem.3447. Online ahead of print

IF: 6.022
Byman, E., Martinsson, I., Haukedal, H., Netherlands Brain, B., Gouras, G., Freude, K. K.

, & Wennstrom, M. 2021.

Neuronal alpha-amylase is important for neuronal activity and glycogenolysis and reduces in presence of amyloid beta pathology

.

Aging Cell

: e13433.

IF: 9.304
Schmidt SI, Bogetofte H, Ritter L, Agergaard JB, Hammerich D, Kabiljagic AA, Wlodarczyk A, Lopez SG, Sørensen MD, Jørgensen ML, Okarmus J, Serrano AM, Kristensen BW, Freude K, Owens T, Meyer M (2021). Microglia-Secreted Factors Enhance Dopaminergic Differentiation of Tissue- and iPSC-Derived Human Neural Stem Cells. Stem Cell Reports
Frederiksen HR, Doehn U, Tveden-Nyborg P, Freude K. (2021). Non-immunogenic Induced Pluripotent Stem Cells, a Promising Way Forward for Allogenic Transplantations for Neurological Disorders. Frontiers in Genome Editing
Aldana BI, Zhang Y, Jensen P, Chandrasekaran A, Christensen SK, Nielsen TT, Nielsen JE, Hyttel P, Larsen MR, Waagepetersen HS, Freude K. (2020). Glutamate-glutamine homeostasis is perturbed in neurons and astrocytes derived from patient iPSC models of frontotemporal dementia. M

ol Brain

Haukedal H, Freude K (2019). Implications of Microglia in Amyotrophic Lateral Sclerosis and Frontotemporal Dementia. J Mol Biol
Vohra R, Aldana BI, Skytt DM, Freude K, Waagepetersen H, Bergersen LH, Kolko M. (2018). Essential Roles of Lactate in Muller Cell Survival and Function.  Mol Neurobiol
Ochalek A, Mihalik B, Avci HX, Chandrasekaran A, Teglasi A, Bock I, Giudice ML, Tancos Z, Molnar K, Laszlo L, Nielsen JE, Holst B, Freude K, Hyttel P, Kobolak J, Dinnyes A. (2017). Neurons derived from sporadic Alzheimer's disease iPSCs reveal elevated TAU hyperphosphorylation, increased amyloid levels, and GSK3B activation. Alzheimers Res Ther 9(1):90.
Click on the name below to see a complete overview of the senior group members' publications: 
Kristine Freude/ Preben Dybdahl Thomsen/ Merle Fenner/ Abinaya Chandrasekaran/ Rupali Vohra
Group members
Name

(click for email)

Position
Bindel, Anna
MSc Candidate
Chandrasekaran, Abinaya
Assistant Professor
Fenner, Merle
Assistant Professor
Frederiksen, Henriette
PhD
Haukedal, Henriette
PhD
Hertel, Jens Peter
MSc Candidate
Jensen, Betina Wingreen
Project Manager
Kadlecova, Marion
PhD 
Lauritzen, Mikkel
MSc Candidate
Lorenzen, Signe
MSc Candidate

Mohamed, Fadumo

PhD
Pihl, Maria
Lab Technician
Rivera, Paula
MSc Candidate
Saruhanian, Sarkis
PhD
Thomsen, Preben Dybdahl
Professor
Vohra, Rupali
Postdoc (BRIDGE fellow)